Let's face it things are changing in Johnstown. Some changes are for the better and some for the worse, but regardless change is happening. This transformation is either causing residents to flee, bringing people back to the area or encouraging people to continue to call Johnstown, PA home. If you were born and raised as a "J-towner" like Corey and I you're probably thinking, thanks for stating the obvious, right? Well about ten months ago Corey and I were faced with the decision to leave the area or to stay. If we were going to leave we were off to Colorado to chase our adventurous dreams and to live the, "can't help but be healthy" Colorado lifestyle we constantly heard about. We were both at jobs we didn't love, but paid the bills so we really toyed with the idea of starting fresh somewhere else.
What made us stay? Something we referred to at the time as "our hobby." You see for about three or four years we would spend our weekends catering for the Cambria County War Memorial. Catering was something Corey loved doing. He got started at the War Memorial after volunteering to cater for the performers at the Ameriserv Flood City Music Festival. Corey basically grew up in the food industry his whole life and catering was something I enjoyed doing from an event planning/organization point of view. Since the Ameriserv Flood City Music Festival only happens once a year we were available to cater for the War Memorial whenever they needed us. We found ourselves mainly catering for the performers that would come to the area: Billy Currington, Justin Moore, The Beach Boys, Three Dog Night, Brett Eldridge, Third Day, Chase Rice and Toby Mac, just to name a few. Sounds a little crazy, but it's true.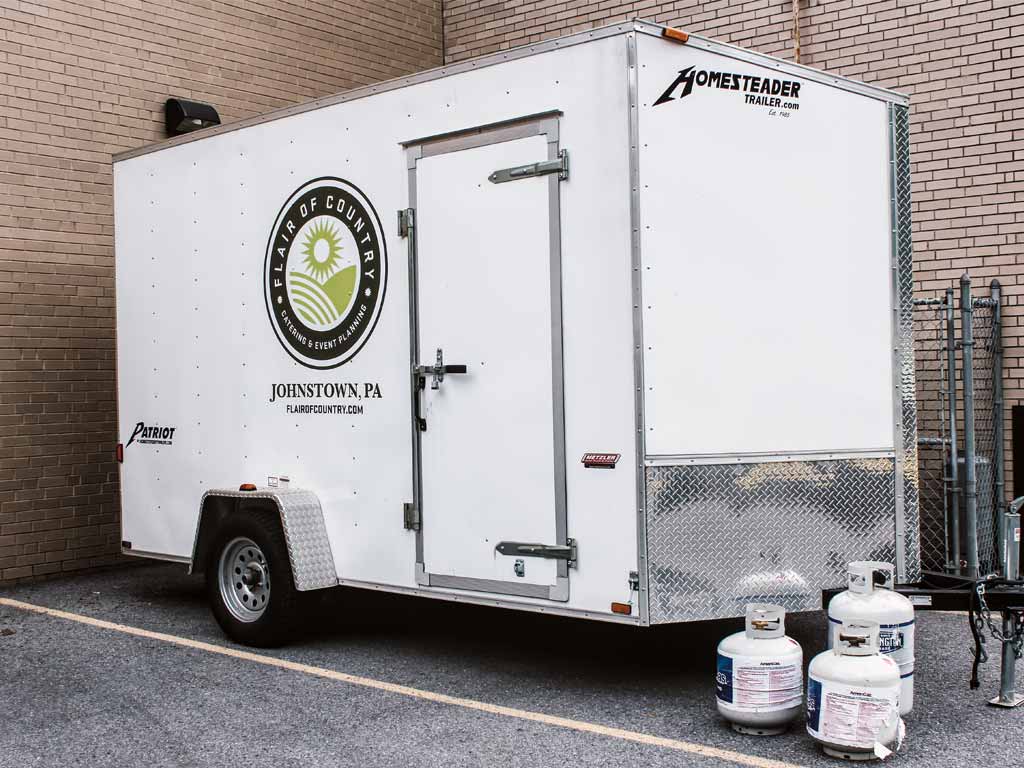 Corey turned to the grill for the majority of his menus. He made up his own BBQ sauce, which added a flair of country to every meal. Since we used a grill as our main piece of cooking equipment we found ourselves starting to collect so many grills that this box trailer became necessary to store them all. (We were developing into a unique catering company already and didn't even know it.) After the first couple of years of catering for the performers we realized we were attracting more and more people to our food. Why? It was different and it was always fresh.
As more catering opportunities started coming our way, we were faced with the decision to stop catering completely because we realized it could become way more than just a hobby, or go all in and actually start a catering business. Well, if you have never met Corey there is one thing you should know about him…quitting is never an option. So, of course, we went all in. We knew we didn't want to open a restaurant, but we also knew we wanted to continue to create and provide fresh food on-site which brings us to Exhibit A, our mobile kitchen.
Exhibit A: Flair of Country Catering and Event Planning, LLC's Mobile Kitchen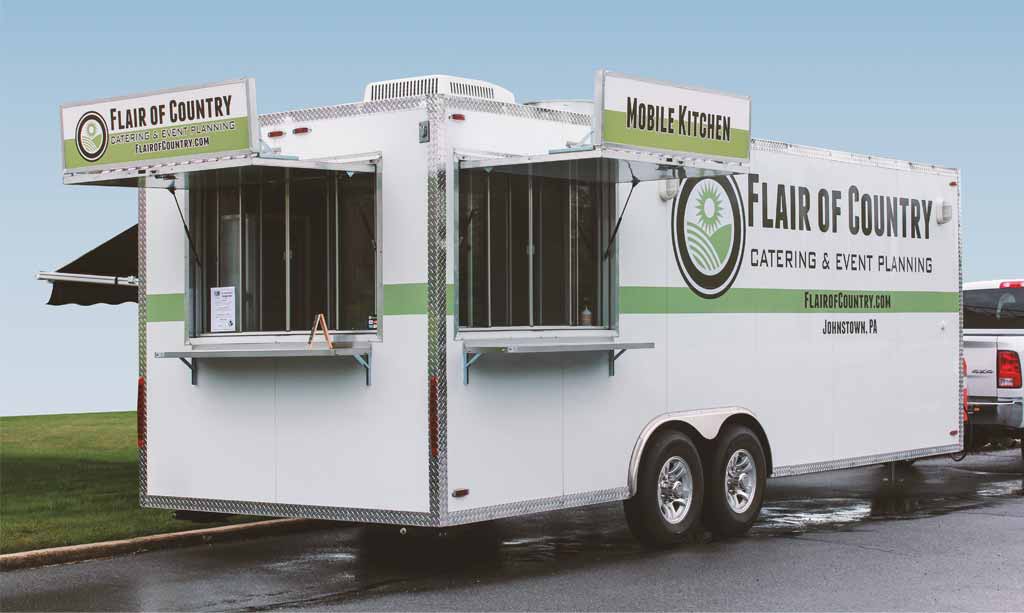 We could not have imagined that Flair of Country Catering and Event Planning would have taken off as quickly as it did, but we are very grateful that it did and that all of you have embraced our concept! We thank you from the bottom of our hearts. Corey and I are very glad we decided to stay in Johnstown!